Philosophical Enquiry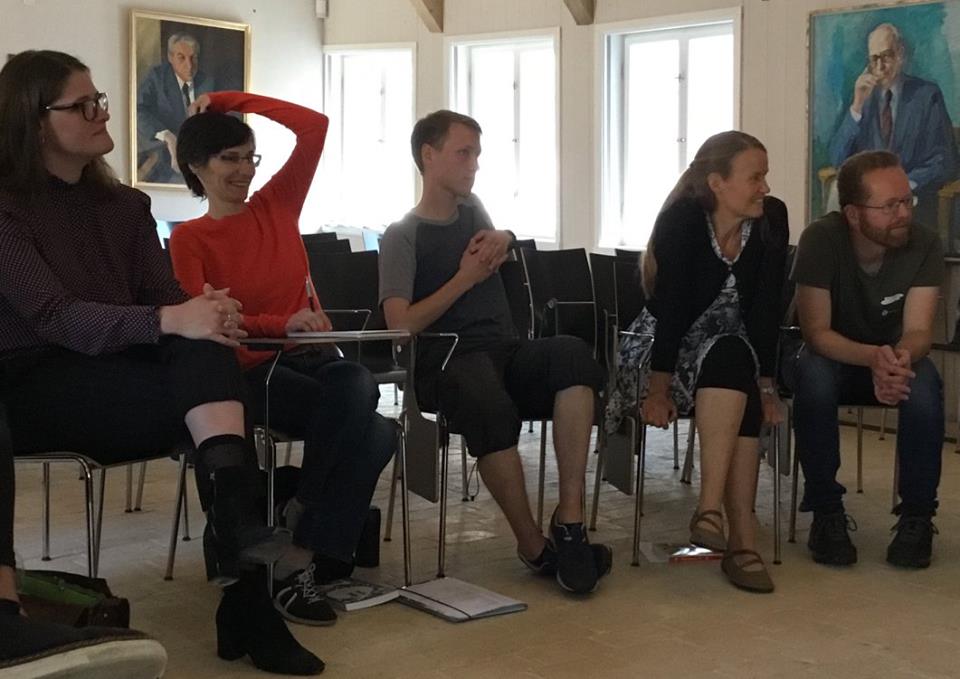 Stage 1 Course
Duration: 2 days or 5 days half-days online
Location: Various or online
Open to: all
This was the most valuable part of my education in pedagogy so far. Even just the material covered on day one will revolutionize my teaching going forward. I wish I had taken this course years ago or that it was a regular part of graduate education in first or second year.
Karl Martin Adam, UNC, Philosophy post-grad
Stage 1 Course
You can book for our next Stage 1's online and in-person courses on our What's On page.

Our next online Stage 1 takes place on the following dates and times:
21st, 22nd, 23rd, 24th and 25th August from 1.30pm - 5.30 pm (BST)
Dates for our next in-person course will be posted here soon.
If you'd like further information, or to be kept up to date about future courses please contact emma@philosophy-foundation.org.
We run national and international courses with partner organisations and individuals. If you would like a course run near you then please do get in touch with Emma.
An introduction to Philosophical Enquiry (PhiE)
Although specifically aimed at training philosophers to become accredited Specialist Philosophy Teachers with The Philosophy Foundation, this course is also open to individual teachers and practitioners wanting to train with us. No background in philosophy is necessary to join us on this course.
Stage 1 looks in-depth at the theory and practice of facilitating philosophical enquiries with children and young people. It is a thorough and (we are told) highly enjoyable combination of theory and practice, and is suitable for those new to P4C / PwC as well as those who have experience. This course is suitable for anyone interested in developing and learning about different facilitation techniques for running philosophical enquiries with children or adults and is the first step required to become a specialist philosophy teacher with The Philosophy Foundation.

The two-day course is £325 to attend in person or £295 to attend online over 5 days. The content on both courses is the same, you will:
Develop teaching and questioning strategies that deepen philosophical thinking.
Take part in a number of philosophical enquiries.
Deliver your own philosophical enquiry.
Come away with skills and resources applicable to a range of situations where good thinking and dialogue take place.
Receive a handbook on everything covered on the course.
Receive a copy of our flagship book The If Machine (or alternative). NB not included for online courses.
No experience of teaching children or philosophical qualification is necessary.
The Philosophy Foundation's method (PhiE) falls under the term P4C (see our P4C page to find out how) and has been developed over 20 years of practice, working directly with the children on a daily basis.
To put it simply, I have been teaching for about seventeen years in both state and private schools, in various parts of the country: this was the best, most stimulating and invigorating course I have ever attended.
Mr Michael Erian, Primary School Teacher
Accreditation
Philosophy graduates may apply to become an Accredited Specialist Philosophy Teacher with The Philosophy Foundation after Stage 1. Teachers can become Associate Teachers through a similar pathway. Associate teachers are not employed by Th ePhilosophy Foundation but are recognised as PhiE practitioners in their school or workplace.
Application must be made WITHIN 9 months of completing the course.
Full accreditation for specialist philosophy teacher training is on a selection only basis, and we cannot take on everyone who applies for accreditation at this stage. Any surplus made from training is used to create bursaries that cover the cost of onward in-school training (whether online or in-person). Bursaries are discretionary.
The fee for Accreditation or Association is £375 (plus DBS check if necessary). If you do not have a DBS there is an administration cost of £60 for an enhanced DBS check.
Becoming an Accredited Philosophy Teacher with The Philosophy Foundation means becoming a member of a group of philosophers who can share ideas, experiences and good practice. We offer regular get-togethers and a range of continued professional development opportunities. You will be supported in your practice in the classroom, and it will mean you will be endorsed to use our name. You will also be advertised on our website and have unrestricted access to the resources on the website. Please note, that although we support and offer work to those who become accredited through us, we cannot guarantee work at this stage.
Becoming an associate teacher means joining a group of teacher practitioners who are endorsed to use our name and who will join a mailing list for free sessions, news and training opportunities.
The application process involves:
a DBS (child protection) check,
a letter of recommendation,
and a phone or face-to-face interview with someone from our Senior Leadership Team.
Successful applicants will teach 5 assessed lessons of philosophy with one-to-one support from a mentor. They will also observe a minimum of 5 sessions in school. If you pass this final aspect of the training you will become an Accredited Specialist and be able to move through the levels outlined in the document at the bottom of this page.
If you pass at Level 2, we will work with you to help find you work in the classroom. If you pass at Level 1 it is recommended to continue practicing in the classroom to achieve Level 2 as soon as possible, though you will be entitled to receive remuneration for your time at the Level 1 pay scale. If you do not reach the required standard for Level 1 we will discuss with you options for going forward. Some who have not passed the first time, do go on to pass at Level 1 and Level 2.
Thank you so much! The Philosophy Foundation training has been a fantastic experience for me. It helped me grow as a person and it gave me insights into how wonderful it is working closely to young children. Often in the classroom they said things far smarter than I would have expected. That gives me lots and lots of hope.
Stefano Santori, King's College London