Young Philosophers Project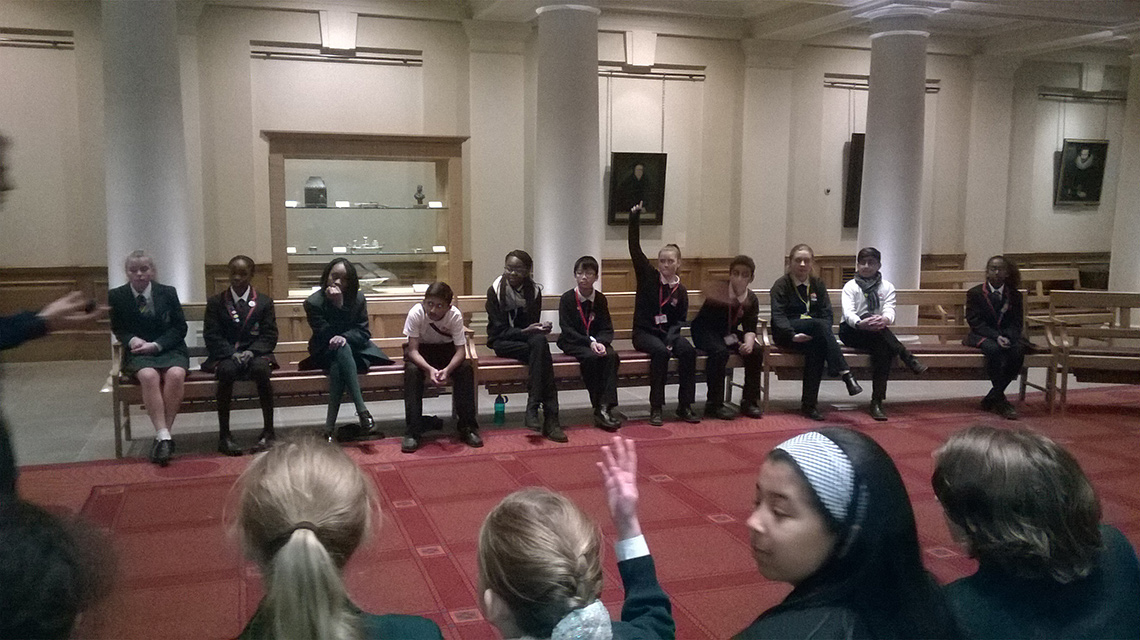 Inspired by the impact of our World Philosophy Day activities and mindful of the lack of experiences and opportunities many children we work with have, in 2015-16 we set up a new programme, the 'Young Philosophers Project'. The aim of the programme was to form a group of children from disadvantaged backgrounds that are given the opportunity and support to experience a wide variety of activities in London, with the hope of raising their aspiration, attainment and social mobility. Many young people lack the contacts, confidence and sense of belonging, to feel that a range of institutions and occupations are open to them. Our growing group of Young Philosophers actively and critically engage young people in parts of society that they may otherwise feel excluded from.
Groups meet up to three times each year for the excursions. These experiences are three-fold and are always combined with philosophical enquiry and dialogue:
1. Profession-based inspiration: children will build relationships with various professionals who they may not otherwise encounter. This could include Lawyers, Scientists, Artists, Journalists or Professors. The philosophers will engage them in discussions important in these areas such as stem cell research, the value of art or journalistic integrity.
2. Culturally-orientated activities: the students will be taken to concerts, theatre, dance, musical activities with the aim of opening up participation and possibilities in these areas. Again activities will be combined with enquiry and discussion.
3. Citizen-based activities: Engaging children in key elements of their society will also be a main factor in the programme. This would mean visiting key institutions such as the Houses of Parliament and Royal Courts of Justice and engaging in enquiries into free speech, the justice and political systems.
The groups are made up of children from different schools, and the aim is to keep them together from Year 6, all the way through their secondary education. In 2017-18, our Year 8 pupils had their third year of trips. This is in order to bridge the transition period which is particularly tough for many children, and to allow the peer and mentor support to continue through periods where they face many significant choices. Lewisham is in the top four worst performing boroughs for post 16 education, and for the proportion of children on free-school-meals (pupil premium) not achieving target standard at the age of 16. Children will be put forward for the programme by their teachers, based on a knowledge of their background and potential.
The Drapers' Company kindly gave us funding towards a pilot of the programme, which ran up until Autumn 2016. The Co-op Local Community Fund supported the programme in 2016-17 and RELX enabled us to take the programme through until Autumn 2018. We are seeking further funding from Trusts, Foundations and Businesses to continue to offer this programme to disadvantaged students in Lewisham and Southwark on a long-term basis. Please see our sponsorship webpage for more information on supporting the project.
Quicklinks