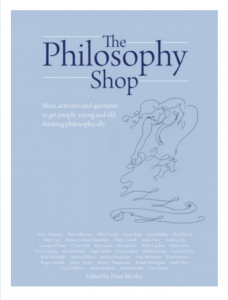 UNESCO marks World Poetry Day every year on the 21st March.
In celebrating World Poetry Day UNESCO recognises the unique ability of poetry to capture the creative spirit of the human mind.
The Philosophy Foundation use poetry to explore philosophy, and philosophy to explore poetry.
[Thoughtings] "As the weeks have progressed I have noticed real improvements in regards to how the children respond to one another when they disagree and the quieter children are really beginning to 'find their voices'. One particular child who finds writing a real struggle due to language barriers was so inspired following a poetry session that he sat and wrote a mainly phonetically correct poem of his own!"
LOUISE TONER, YEAR 2 CLASS TEACHER, CRAWFORD PRIMARY SCHOOL
[The Philosophy Shop] For this World Poetry Day, download and use this free resource taken from one of our multi-award winning books The Philosophy Shop, to get your children writing some philosophical poetry of their own.
Philosophical Poetry
(This extract is taken from The Philosophy Shop © 2012 Peter Worley and Crown House Publishing)
And, from March 14th until April 30thtake advantage of a special offer from Crown House Publishing to purchase any of our titles!
The Philosophy Foundation Series:
[The Philosophy Shop]
[Numberverse]
[Provocations]
[Thoughtings]
The Philosophy Shop: ideas, activities and questions to get people, young and old, thinking philosophically £25.00
Thoughtings: puzzles, problems and paradoxes in poetry to think with £14.99
The Numberverse: how numbers are bursting out of everything and just want to have fun £14.99
Provocations: philosophy for secondary schools £14.99
Posted by on 3rd March 2016 at 12:00am