I just wanted to say a massive thank you to you all for the European Union: In or Out Philosophical discussion you ran at Conway Hall last night. I can't believe you put on a events like that for free. I found it reassuring and inspiring to be a in a room full of people, all engaged, thinking, caring...what a wonderful thing to have facilitated.
Nikki Hughes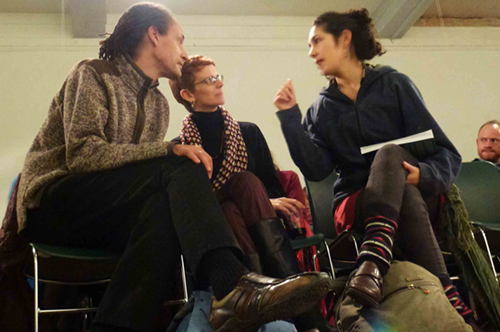 A wider aim as a charity is to bring philosophy to everyone.
We run community events either from our base in Lewisham or from being asked to help others bring philosophy to their communities. We sometimes work with Conway Hall and other partners to run public events. To be kept up to date with our community events join our mailing list, or follow us on Facebook and Twitter.
We have run after-school clubs, book groups, philosophy groups for adults, sessions for the Sydenham Arts Festvials, Philosopy Now Festival, storytelling and philosophy evenings in Forest Hill, even sessions at the English National Opera for Satyagraha (an opera by Philip Glass).
The evening was an exploration of music, dance, poetry and philosophy all based around Philip Glass's Opera 'Satyagraha'.
Thank you for transforming the Trafalgar room into a think-tank with a difference. I was amazed at the constant flow of participants right through the evening and how you facilitated discussions to keep them within the framework of Satyagraha and yet encouraged people to talk about what they really wanted to. I had expected it would go well for the first hour or so and then peter (sorry) out, but the philosophers were amongst the last to go. Really interesting.
Rebecca Meitlis, Baylis Consultant, ENO
Stuart Low Trust
Stuart Low was a young Islington man who killed himself in 1997 after failing to find the help he needed to cope with schizophrenia. His death prompted local people to form the Stuart Low Trust (SLT) to create better services for other vulnerable people. SLT was established in 1999.
The Philosophy Forum was set up to bring people together to talk through philosophical ideas at the Stuart Low Trust.
Many of our philosophers volunteer for this group.
You can find out more about it, or volunteer your own services by visiting their website.