Book Review: Ethics and the Contemporary World
Ethics and the Contemporary World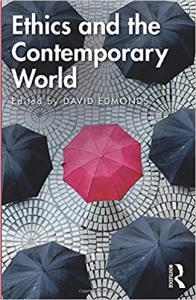 Recent scientific, technological and political developments have changed so profoundly the world we live in that they sometimes seem to render philosophy obsolete. Yet, they have prompted new moral problems which can – and ought to – be addressed philosophically. Such is the aim of Ethics and the Contemporary World, edited by David Edmonds. This entertaining and approachable introduction to contemporary practical ethics dusts off the discipline by anchoring present-day concerns within the broader philosophical tradition.
In 25 short chapters, renowned philosophers identify the issues at stake in a wide variety of topics ranging from global warming, genetic selection and industrial farming to plastic surgery and social media. They expose and deconstruct contemporary ethical debates and outline the main contending arguments, inviting the reader to exercise their critical thinking and make up their own mind. Ethics and the Contemporary World is a great starting point for reflection and further discussion, and its simple and accessible introductions to the stances of both classical and contemporary ethicists will further one's philosophical culture.
Although the book is aimed at students at the beginning of their philosophical studies, it is also easily accessible to non-philosophers interested in these questions – that is, given the broad scope it covers, pretty much everyone. It constitutes a precious tool to apprehend the complexity of the world we live in, suggesting that philosophy is more relevant than ever. This is, perhaps, its greatest accomplishment: showing people outside the discipline that philosophy has not said its last words and still has much to contribute to contemporary political and moral debates.
***
Book review by Léa Bourguignon
Posted by Emma Worley on 7th August 2019 at 12:00am