Book Review: Who the Hell is Friedrich Nietzsche?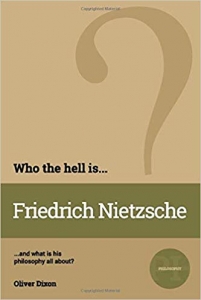 It would not be controversial to say that Friedrich Nietzsche is one of the most influential Philosophers of the 19th century. Undoubtably you've heard a quote from one of his works, be it a lazy pop-culture reference from the latest Hollywood blockbuster, or an even lazier reference from a first year Philosophy undergraduate. What is far less clear is what he meant by these quotes, and how they fit in with his Philosophical theories.
'Who the hell is Friedrich Nietzsche' by Oliver Dixon shines some light on the history and thought of Nietzsche in an accessible and unambiguous manner. The first two chapters of the book provide historical context to the progression of Nietzsche's thought throughout his career; looking at both his life story and Philosophical influences. Dixon's book takes particular care in presenting Nietzsche's work in the context of other popular schools of Philosophy of the time, and how these theories influenced his own Philosophy.
Where the book really excels is in presenting some of the big theses that Nietzsche presents in his works. Whilst there is still much disagreement in the world of Philosophy over what exactly Nietzsche was trying to say, Dixon does a great job of presenting three of the key themes of Nietzsche's work with both clarity and accuracy. I would highly recommend this book to anyone getting into Philosophy or anyone who just wants to learn more about one of the most misunderstood figures in modern Philosophy.
***
Review by Jamie Corish.
Posted by Emma Worley on 30th October 2019 at 12:00am