How to use poetry for philosophy enquiries
When National Poetry Day and World Poetry Day come around each year I like to use poetry for all my philosophy sessions where possible. I usually write some more Thoughtings and a blog. This year I have got a little over-excited about poetry. Because I love it! So this is the second blog on poetry which follows on from my previous blog post 'Why Poetry? Because it is like the TARDIS…'
Something similar to what follows can be found in the appendices at the back of Thoughtings together with a sample lesson plan around one particular Thoughting. The poems in that collection have been written specifically to do philosophy with, however philosophy can also be done with many other poems not written to do philosophy. With that in mind, I've put this together for anyone who wishes to start using poetry as a starting stimulus for doing philosophy but who lacks the confidence (or a procedure) to do so. This is only a guideline so the word to bear in mind is 'variation' – play around with this structure to best fit your aims, your class or group and your poem. All the poems mentioned here can be found by following the links in my previous blog 'Why Poetry?…'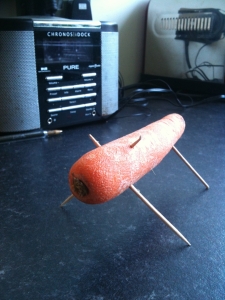 First of all decide whether handing out a copy of the poem or projecting the poem is necessary. If the poem is short and not terribly difficult then I opt not to do this, but longer poems that need 'unpacking' often benefit from being seen by the class. Also decide at which point you hand it out/project it. I prefer to have a class simply hear a poem at least once.
Read. Either read it yourself or get the children to read it sharing a line for each person. But only do this is if the class is of an age to read it well. For most primary classes Ichoose to read as comprehension is so much more difficult if a poem is read badly. This isn't a 'reading poetry class' it's a 'philosophy-through-poetry' class and good comprehension is essential for this. When reading, and especially if you are working with younger groups, it can be helpful to provide gestures and/or actions as you read. Read meaningfully. For instance, 'An Owner's Complaint' by John Hegley should be read like it's a complaint!
Allow silent thinking time (usually only up to 30 seconds).
Read again. If comprehension is required then some time will need to be spent unpacking the poem. If this is necessary then before you read the poem for the second time ask them to put their hands up at the end if there are any words or phrases they do not understand. It's sometimes useful to have a dictionary ready for this. Note: when dealing with unknown words or difficult phrases read out the word or phrase in context (in other words, read the complete thought or image containing the word or phrase). Then ask if there is someone who thinks they know what the word or phrase might mean. It is always better if someone in the class can teach the class rather than you. Sometimes it is the case that they are only able to provide an approximate meaning; in that case you complete it. If you have to look it up then get someone in the class to take on this duty: a dictionary monitor. Hint: Either for the second or a third reading you could leave out certain key words for the class to fill in. For younger ones simply leave out the last word of each rhyming couplet but with older ones you may choose to leave out less obvious words, phrases or even whole lines.
Ask a question. Very often a discussion, or question for discussion, will arise quite naturally from this comprehension part of the session. I call this an emergent discussion or question. If a suitable discussion does not arise then it is a good idea to have a question ready to begin one – what I call a task question. (See 'Finding a question' below.)
Give them some talk time in pairs or threes. They will usually need no more than 1 minute of talk time.
Begin the enquiry. First of all, gain their attention. Then ask the question again. Let the enquiry run for a few minutes (usually 5-10) before returning to more talk time.
Continue moving between 6 (talk time) and 7 (enquiry) until a new question arises and in which case return to 5, then 6 and 7. Use your judgement and return to 9 (talk time) whenever the conversation demands or suggests that you do so.
Remember: the above procedure IS NOT philosophy – it is merely a procedure for philosophy to happen in, although philosophy will only happen if the discussion is facilitated well. For a more detailed explanation of how to manage the enquiry (7) itself – the bit where the philosophy happens – see The If Machine pages 1-45 or 'If it, anchor it, open it up' in the forthcoming The Socratic Handbook. ('If it, anchor it, open it up' is also available FREE, for members of SOPHIA, as a download from sophianetwork.eu in 'Resources'.)
Finding a question in a poem
(1) 'Questioning' a poem
Sometimes a poem explicitly asks a question such as 'Some Opposites' by Richard Wilbur in which it ends:
What's the opposite of opposite?
That's much too difficult. I quit.
In this case, the poet's surrender sets up the class's challenge. But where a question is not asked explicitly it can quite often be hidden, such as with 'Invictus' by W.E. Henley where it ends with these two lines:
I am the master of my fate;
I am the captain of my soul.
To make a question, simply 'question' these lines: 'So, are you the master of your fate? Are you the captain of your soul?' See also Hamlet: 'What is the question?' or (also Hamlet) 'Is it true that there is nothing either good or bad but thinking makes it so?' Or Shel Silverstein's 'Listen To The Mustn'ts':
Anything can happen, child,
Anything can be.
To 'question' these lines, you could ask: 'Can anything happen? Can anything be?'
When using poems to do philosophy I prefer to select poems that have one of these two options, an explicit question or an implicit question. If the poem has neither of these opportunities then it will be harder to do philosophy from, but that doesn't mean it's impossible or that the poem is no good for philosophising from. What it does mean is that it will require a bit more thought. For instance, the poem 'An Owner's Complaint' has neither an explicit nor an implicit question but I have found that the following question works really well for an enquiry: 'When is a dog not a dog?' and part of what makes it work is that it contains what appears to be a contradiction (see my previous post Why Poetry?) Note: this question also gives an excellent question structure for general use: 'When is an X not an X?' Some children resolve the contradiction, for example, like so: 'An 'X' is not an X when…' (resolved here by the use scare quotes). Many of the Thoughtings poems are like this: they have lots of questions in them. As a general rule, one difference between a Thoughting and non-Thoughting poem is that Thoughtings tend to only raise/ask questions rather than answer them. This makes them easier to find questions in but it is worth noting that a poem that 'has answers' has more to disagree with.
(2) Questioning a poem
For instance, 'What is Truth?' by Steve Turner:
The truth is what's what;
A lie is what's not.
Here, the best question to ask a class, I find, is: 'Do you agree with the poem/poet?' A good strategy for possible use here, especially if the children do not do so automatically, is to 'task' them to seek out a counter-example: 'Can anyone think of a situation where the truth is not 'what's what?' and 'Can anyone think of a situation where a lie is not 'what's not'?' and so on.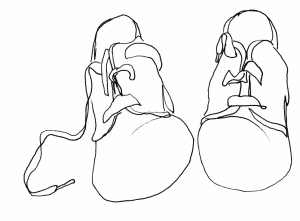 Here's a couple of brand new Thoughtings to get you started:
My Shoes
My shoes walk me; I don't walk them.
I don't write stuff down; that would be my pen.
I don't do the thinking 'round here; it's my brain that does it
And the deciding, desiring, and then the inquiring about it.
It's my heart, not me, that sometimes likes, hates and loves you.
And all this is quite a part from the other things I don't do.
So what do I do when all is said and done?
What's left for me to do?
To remove my shoes
And run.
My Trousers
My trousers ran away today
We tried to catch 'em up
They ran and ran
Like the gingerbread man
But simply wouldn't stop.
When asked why they'd run away
They simply said, 'No more
Will we do what our wearer wants –
That's not what we are for!
We want to wear our owner
And stop him donning gingham!' When
M' strides were done, I laughed out loud –
'Til I realised I was in 'em.
Questions:
Do you always control your actions?
If not, then what sorts of things control you?
Do you do the thinking or does your brain do the thinking?
Are you different from your brain?
What walks you if you were to sleep walk?
Can you ever be excused for your actions?
Can you ever blame someone or something else for your actions?
What do you think is meant when the poet of 'Shoes' answers that what's left for her to do is to 'remove [her] shoes and run'?
These Thoughtings would work well with 'It Wasn't Me!' and the 'Are You Free?' section in Thoughtings by Worley and Day.
Posted by Joe Tyler on 9th October 2014 at 12:00am