And then it happened one day: philosophy came home! The schools emptied and returned to silence. So it got quite busy at home: Mom and Dad and the kids and the dogs and the deliveries and … a lot of time and … a program? Not really.
We sat together and talked about what to do. A fixed program, like a school schedule, was voted down. Let's not imitate school at home, we said. So what's the alternative? We decided that there are six essential building blocks, call them the amino-acids of a healthy day at home. Sequence + duration can vary, from person to person, from day to day. Can I share them with you:
individual screen time (limited to 90 minutes / 'slot')
home work / study
reading time
family time
action time outside
chores (walk the dogs + 1 extra job / day, like cleaning the shower, helping with the laundry or vacuum clean your bedroom).
And philosophy? We thought that could be done best while doing something else. We're not a family of "let's sit together and talk about …"; that's only for the serious stuff. But we do enjoy each other's company, showing our wit, exploring new inroads, trying out some imagination, sharing some sparkles in the eyes. This morning, it happened just like that: we were talking about the – on-line – grocery list for tomorrow's delivery and then, totally unannounced, there was the thought: imagine the delivery could be done on-line too! That thought challenged us to some high-tech speculations, about the on-line delivery of peanut butter, beef and mushrooms. And then we all went our own way again, until the next 'meeting', most likely in the kitchen.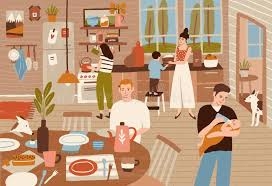 The kitchen is, I can recommend, the best place at home for philosophical conversations, because there is so much one can do at the same time: dish washing, making tea or coffee, getting the ingredients together for the slow cooker, or even reading a book. When you read a book at the kitchen table it means that you don't mind being drawn into somebody else's thoughts or questions. We also found out, already some time ago, that a daily newspaper on the kitchen table is a 'must-have'. Yes, I know, all the news is on one's phone, up to date and tailored to personal interests. But a newspaper invites conversation, sharing ideas, questions, worries and new perspectives. Do so!
You may think that a philosophical conversation needs special and thorough preparation. Well, actually philosophy at home works differently. It is much more dependent on – I know, it's a bit of mystified language – 'the moment' / 'the opportunity'. That is the main part of your preparation: to spot the moment and then … just get into it and let it develop.
Nevertheless, it is helpful to have some ideas and examples at hand. And that it what we will offer you over the next weeks, every day something new: a topic, a 'starter', a different set up for the conversation.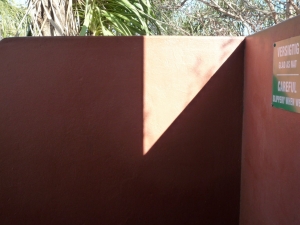 As the first example I'll share with you a picture I took some years ago. It is of a shadow line on a wall. The question is: how will the shadow line move over a period of a couple hours? Specifically, will it change its angle? At home, you don't need the picture, just find the right place.
And don't forget to participate yourself! All want to hear what you think. At home there is no need for a facilitator, just an initiator – that's enough.
[Pieter Mostert, 18 March 2020]
Posted by Steve Hoggins on 19th March 2020 at 12:00am