Young Philosophers at universtity
Aspiration at Goldsmiths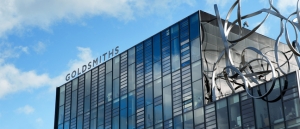 The Young Philosophers, who are a group of pupils from different schools, will stay together from Year 6, all the way through their secondary education. This is in order to bridge the transition period which is particularly tough for many children, and to allow the peer and mentor support to continue right up until they need to make decisions about their future. Many young people lack the contacts, confidence and sense of 'I could be one of them' with regard to many institutions and professions. The Young Philosophers will actively and critically engage young people in parts of society that they may otherwise feel excluded from, with the aim of raising aspirations, confidence and social engagement.
In their first trip of the year the Young Philosophers visited Goldsmith's University. The children were encouraged to engage with children from each of the other schools through games, philosophical enquiry facilitated by The Philosophy Foundation team, and other activities coordinated by Goldsmith's outreach team, including a workshop on traditional ways of exchanging goods without the use of money. In the philosophy session they considered the philosophical problem of time travel. They then visited the anthropology department, met the staff and a session was run by Goldsmith's staff Alaa, who remarked that they were the best group she had ever had in terms of their "deep thinking and insights".
Our philosophers also saw change on a one-to-one level, for example, one of the more reticent pupils developed her confidence throughout the day eventually asking, 'what age do you go to university?' which he wasn't expecting her to do – engaging on a personal level about higher education.
By the end of the day, the children had been exposed to different aspects of university life and were thinking about the possibility of coming to this institution again in the future.
I liked Goldsmith's because it gives you a hint of what it's like when you grow up - Young Philosopher, Jude.
As the children are currently in Year 6, we decided that the most appropriate way to coordinate two trips over the course of the year was to have one in the final half term of the academic year, once their SATs had been completed. So, in the second trip this June, we will take them to the woods and a conservation centre near Peckham.
Posted by Steve Hoggins on 18th December 2015 at 12:00am