Our mission is to bring understanding, wisdom and eudaimonia (flourishing) to the heart of education for children and adults.
We believe that:
Reasoning skills developed through philosophical enquiry are an indispensable foundation of all aspects of learning.
Philosophy, like maths, music or physical education, is intrinsically worth doing and intrinsically engaging.
All our specialist philosophy teachers hold a bachelor's degree in philosophy, and are trained to work in the specific setting where they conduct their enquiries, from primary schools to global businesses. Our overall aim is to equip our beneficiaries to participate fully in society, or in the community they are members of (e.g. work).
The Foundation's primary educational aim is to get children doing philosophy in classrooms, and is always researching and developing ways that this can be done. We understand doing philosophy in three broad ways:
A philosophical encounter - to acquaint children with philosophical problems and thinking by providing the conditions for the children to be able to philosophise (the activity of doing philosophy) with each other.
Philosophical development - giving students the opportunity to practice and improve philosophising and the intellectual competencies involved in this, which have wider application in most, if not all subjects (see a list of intellectual virtues on Peter Worley's Academia page here)
Philosophical independence - for children to complete our programme with a disposition to appropriately use these intellectual virtues / competencies, but without the support of a philosophy facilitator. In this way philosophy becomes an important part of life-long learning.
We are committed to promoting a high standard of philosophical understanding and practice within the P4C community and philosophy done in schools.
Theory of Change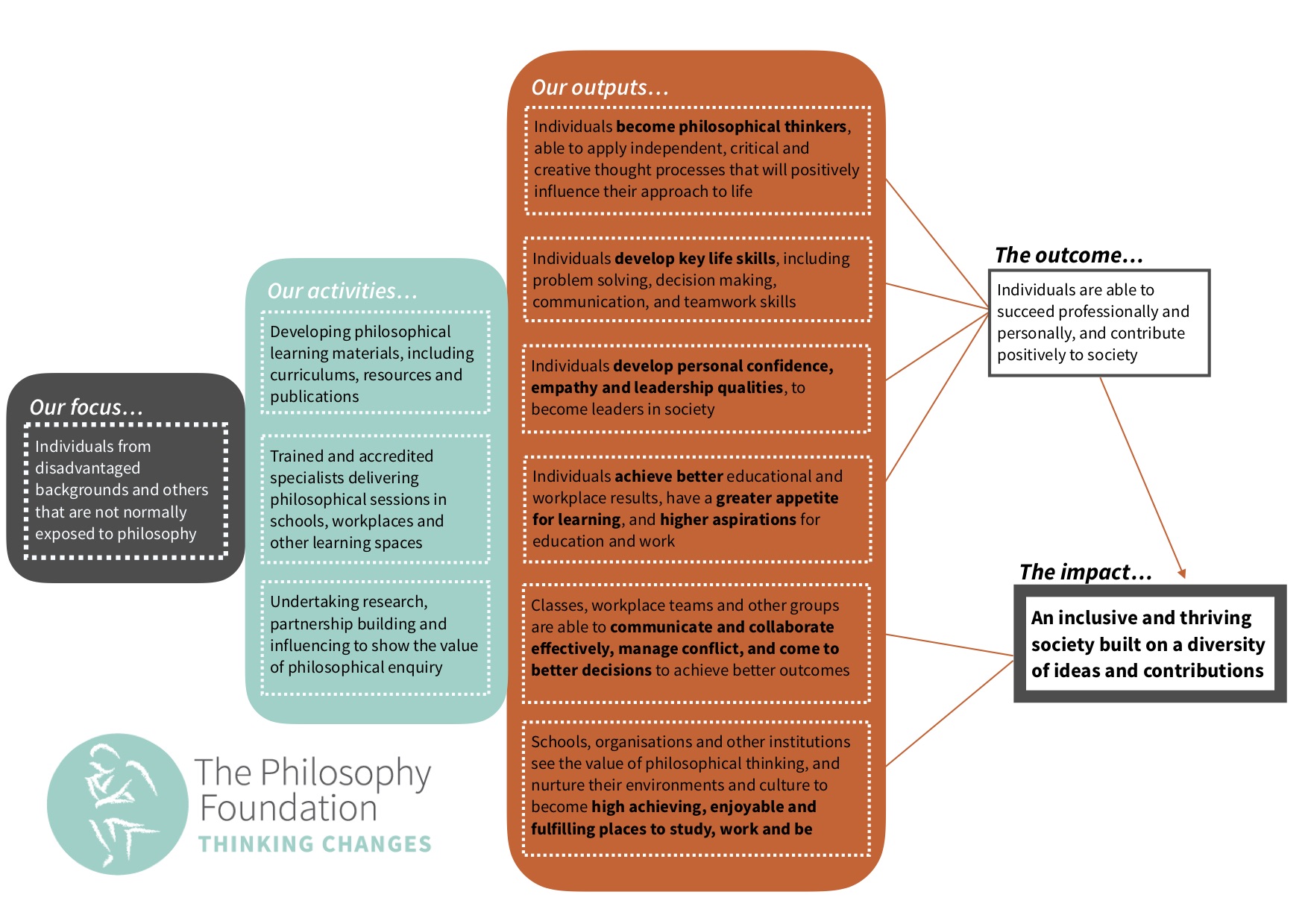 Our Aims and Goals
TPF's aim when doing philosophy with children is to allow beneficiaries the opportunity to improve their communication skills and deepen their thinking, their understanding of the world and of themselves, their experiences and other people, by refining how they think about those things through collaborative, critical reflection.
Our goal is that, by doing philosophy, beneficiaries learn to think better, to act more wisely and thereby help to improve their educational opportunities as well as the quality of their and others' lives. Click on our What is Philosophy? page for more details on what philosophy is and how it can help people achieve that goal.
We have a special focus on the disadvantaged and those that would not normally be introduced to philosophy as a practice or a subject. TPF therefore has a commitment to encourage, support and sponsor non-privileged children to study philosophy at University. In 2015-16 we were able to offer four London Universities support for their philosophy students through The Philosophy Foundation Hardship Fund.
TPF also aims to promote and facilitate philosophical dialogue in the workplace, in business and in the public sphere.